FIFA 22: How to Claim the Ultimate Team Twitch Prime Gaming 3 Pack, Featuring Winter Wildcards and Messi
FIFA 22: How to Claim the Ultimate Team Twitch Prime Gaming 3 Pack, Featuring Winter Wildcards and Messi
One more season, you can get totally free Twitch Prime Gaming Pack for FIFA 22 simply by being an Amazon Prime subscriber. We tell you what steps you have to take.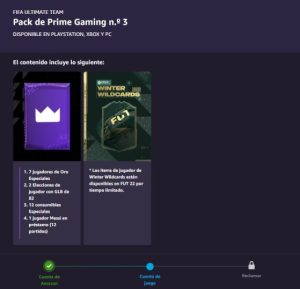 For one more season, the Prime Gaming rewards for FIFA 22 are now active, with which you can get a free pack for Ultimate Team every month simply by being a subscriber to the Amazon platform.
Claiming it is fairly straightforward and it won't take long for you to have an envelope that enhances your FUT team. You simply have to link your Amazon account with EA's . It is very simple and we provide you with the steps below.
On this occasion, you can take advantage of the promotion to get two packs with the following rewards, which may include a Winter Wildcards card.
How to get the free FIFA 22 packs with Twitch Prime?
You just have to click here to link your Amazon account with the EA account that you have active and linked to the football game. You will have to enter the email and password that you have in EA for the process. Then, just click "Request now" and from the game you will be able to access the envelope that Prime Gaming has given you.
The first Prime Gaming booster was awarded last October and since then there have been new and different rewards every month. A help to improve your Ultimate Team squad . In the December Pack/envelope you get the following:
7 Special Gold Players
2 Player Picks with a GLB of 82
12 Special consumables
1 Messi player on loan (12 games)
Remember that it is a monthly promotion, so you will have to repeat this process every month until August to enjoy a unique and free envelope, just for you.